If you've been reading my blog then you know from posts like these (click here and here) that I absolutely love Karena and Katrina and their company, Tone It Up! Not only do they share the latest workouts and yummy recipes, but they also give their followers a ton of daily motivation and inspiration to help us traveling down the right path on our healthy lifestyle journey.
I discovered them almost a year ago. There was so much excitement going on in the Tone It Up Community because they were just finishing the inaugural Bikini Series and all of its fun challenges. Last Friday, Katrina and Karena launched the second annual Bikini Series and I cannot tell you how excited I am for a couple reasons - 1) As I mentioned previously, I missed the first Bikini Series and have been waiting a whole year for this one! 2) I am ready to get Beach Babe ready for summer 2012!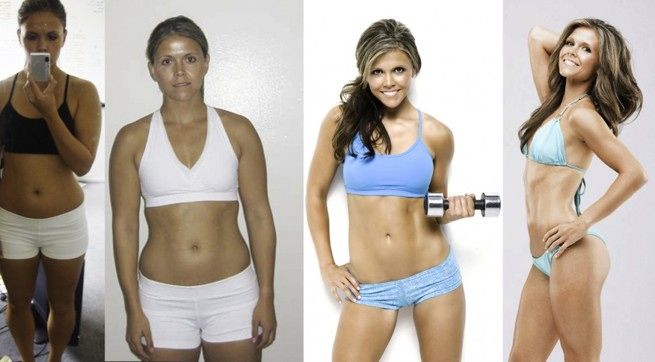 Katrina's 23 pound transformation!
Photo from here.
If you go to the Tone It Up blog, you can sign up for the Bikini Series newsletter which will keep you up-to-date for the next 8 weeks. You'll receive daily challenges, motivation, fitness videos, tips, prizes and giveaways! I must also add that the TIU prizes are always amazing! This summer they will be teaming up with Oakley, COOLA, tarte Cosmetics, Maaji Swimwear, ZICO, and Kelly James. Not only will the challenges/prizes be awesome motivation in my opinion, 8 weeks is exactly two months - the time it takes to form a habit if I'm not mistaken. So this is the perfect time to begin, continue, and/or re-evaluate your healthy lifestyle!
Check out the Spring into Bikini Season video here:
The girls also just launched their brand new Beach Babe DVD. You can purchase it here. As I have mentioned on Facebook and Twitter, the DVD is the perfect way to add fun and effective routines into your day (you can do it along with the Bikini Series and the SELF Magazine Drop 10 Challenge) Also, be sure to follow Tone It Up on Facebook, Pinterest, Twitter, and YouTube to stay up-to-date on everything that's happening in the next 8 weeks!
On Sunday, Tone It Up sent out their first e-mail regarding the Bikini Series. Today's challenge is to complete the 8 toning moves and 40 minutes of cardio doing the Plateau Buster from SELF Magazine's April issue. You can also find these exercises online. I also have some personal goals for myself. K & K also asked everyone to come up with 8 goals for the next 8 weeks. Here are mine:
8 Goals for the TIU Bikini Series:
1. Eat lean, clean, & green.
2. Complete the 5 Day Slim Down during the 1st and last weeks.
3. Have confidence while in a bikini.
4. Plan/prepare workouts & meals in advance.
5. Stay positive.
6. Encourage others in the TIU community.
7. Check in throughout the day (Twitter) + once/day recap (TIU Community)
8. Drink 54 ounces of water/day.
Are you going to join me for the next 8 weeks? Let me know in the comments below!