I'm not going to lie, I actually had Amanda Bynes scheduled for my next Girl Crush post, but with her recent run in with the police (literally), DUI, and time in jail, my love for her has died a bit. I hope she can turn her behavior around ASAP. Anyway, moving on...
So today's Girl Crush post is on the always wonderful Sophia Bush. She was born and raised in California. She got into acting because performing in a play was a requirement at her all-girls high school. After graduation, she attended college at University of Southern California as a journalism major. She ended up leaving her junior year of college to move to Wilmington, North Carolina when she got her breakout role as Brooke Davis.
While she is best known for her role as Brooke on One Tree Hill, I really like her in The Hitcher and John Tucker Must Die as well.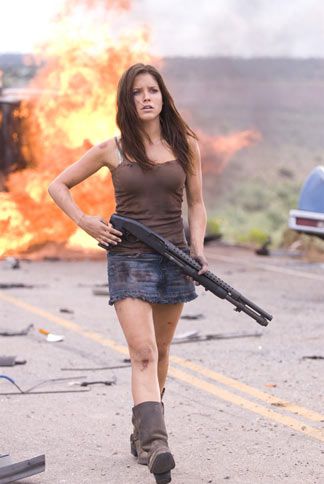 The Hitcher
Photo from here.
Not only is she best buddies with fellow John Tucker Must Die actress Brittany Snow (Girl Crush post on her coming soon!) which I love, but she also is very much into promoting awareness of certain causes. In 2008, she supported Barack Obama for president and toured the nation encouraging college students to vote in the election. For the upcoming 2012 election, she has been vocal about supporting civil rights for all. No matter what her stance is on things, I love that she is using her social media accounts and celeb status to spread the word and get people talking/thinking/researching.
Sophia Bush and Brittany Snow
Photo from here.
If I'm not mistaken One Tree Hill is now over after finishing its 9th season...crazy! In addition, Sophia and her co-star Austin Nichols broke up in February after dating for almost five years. It seems like this is the perfect time for Sophia to shine in the spotlight! I cannot wait to see what she has in store for us!
What is your favorite Sophia Bush movie/role? Let me know in the comments below!
Please follow me on Twitter and "like" my blog on Facebook if you enjoy what you read. Also, there are only a couple days left to vote for the Fitness Magazine Fitterati Blogger Awards. Please vote for Adventures with Alexandra here. Thank you!