I had some fun things planned this weekend including the Dirty Girl Mud Run. This weekend had perfect weather, so I'm glad I had outdoor events planned although I got sunburned yesterday! Ouch!
The Dirty Girl Mud Run took place bright and early on Saturday. Even though I didn't know anyone in real life running the Dirty Girl, I had met a few people during the FitFluential/Dirty Girl Twitter chat, so I met up with them. It involved one of those awkward, first-time-meeting-and-I-think-that's-you-from-your-Twitter-photo moments ;o) That ended immediately and we had a great time! Parking and registration were a breeze at 7:15am. Check out the awesome swag from the race: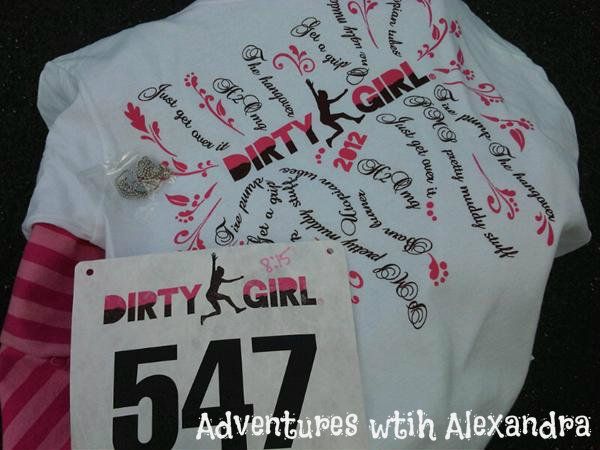 I think the shirts for this race are so cute!
I dropped off my bag, checked out the vendors (where I won an awesome cowbell by the way), chatted with a work buddy and his family, and people watched at the start line. The Dirty Girl is a great place to people watch, as the ladies had some pretty cool costumes. I wish I had photos, but I checked my camera with my bag. Usually I run with a fanny pack to put my phone, camera, chapstick, etc in, but I didn't want to take any chances after the Run For You Lives Zombie 5K incident!
Clean and at the Start line!
Colleen, Kristin, Karen and I were signed up for the first wave - 8:15am! There were about 7,000 women signed up for the Dirty Girl Mud Run this weekend, but you couldn't tell because they did a good job of spreading out the masses between waves. Our wave was not too large in my opinion. Even so, at the beginning of the run, my shoe came untied putting us behind EVERYONE in our wave for the first obstacle - climbing a mountain of hay barrels! After that, we decided to pick up the pace so we wouldn't have to wait behind others to finish each obstacle. I loved all of the obstacles - I didn't think any were strenuous or intimidating. It was definitely a good race for people of all athletic abilities as you could go at your own pace. One thing I would change (and yes, Dirty Girl did ask for suggestions on Twitter!) would be to add more mud - only my hands, knees, and shoes were muddy at the end. It did make for easy clean up and a less messy ride home though, but I wanted to get dirty! They also imported the mud which is great because Georgia doesn't have black mud. Instead, it has what we call red Georgia clay and it stains your clothes like no other! I was thankful for the imported mud! ;o) Oh, and we finished the 5K and all 11 obstacles in about 35 minutes. We must have been booking it because that is so fast for me (my best 5K time is right under 30 minutes unless I'm on a treadmill).
"After" photo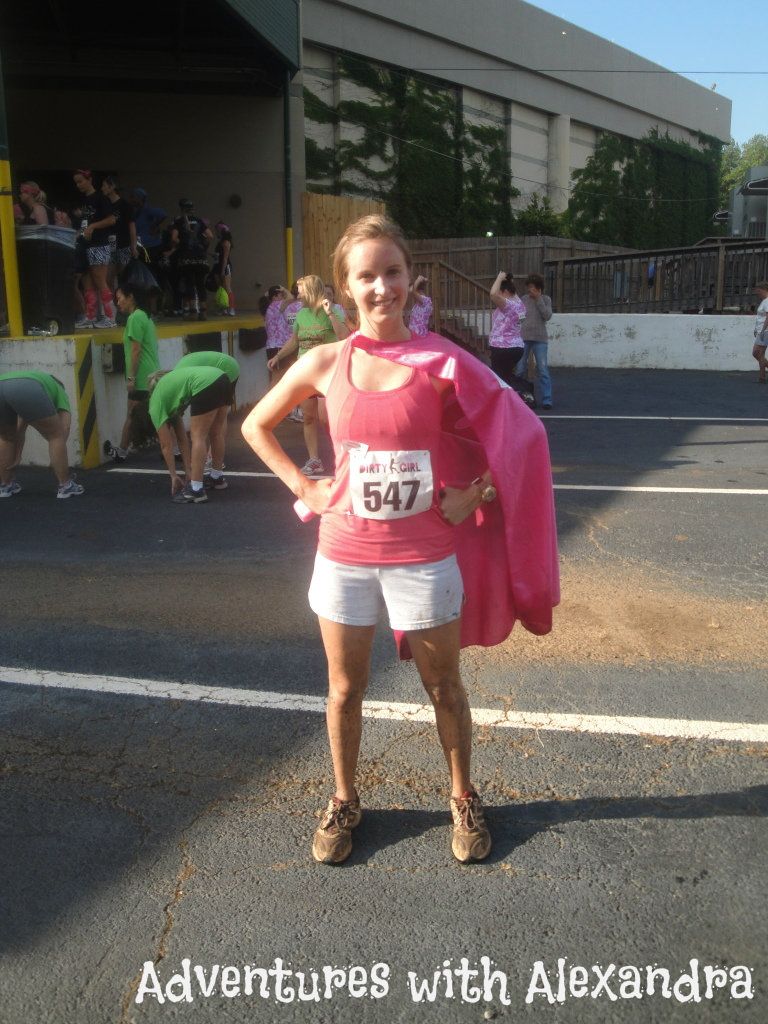 After the race, we grabbed our bags and showered off. At the Run For Your Lives Zombie 5K, they literally had hoses attached to a contraption, so the water would continuously pour down on you. Because of this, I wasn't expecting a full on spa at the Dirty Girl, but I was quite happy with their showering station. There were plenty of hoses and the water did not continuously run - therefore no water was wasted (They ran out of water at the Run For Your Lives Zombie 5K.)
shower stations
After we were as fresh and as clean, clean as we were going to be, we put our stuff away and headed out in search of food and refreshments. Unfortunately, we couldn't find any! We saw a vendor giving away Busch beers, but we were in search of our complimentary cosmos as well as some food - we were starving! We never found any, so we headed off to Einstein's (not the bagel place) in Midtown for some yummy food. That would be my second suggestion to the Dirty Girl team - larger signs/more obvious stations. I wasn't too disappointed though because I had some yummy chocolate milk, blueberry oatmeal with cinnamon and some multi-grain toast at the restaurant. Delish!
It was so great to meet you Colleen, Kristin and Karen! I had a blast running with you and chatting over breakfast post-run!
I did get some photos at the last obstacle in front of the Finish line. I guess one group started crawling through the mud, so everyone else thought that is what you were supposed to do. It was fun to watch!
My one suggestion for Dirty Girl participants - sign up for the earlier waves. Parking and registration were getting a little crowded even by 9am! I heard on Twitter that the line for bag check was over an hour long around the afternoon waves. It makes sense since those were the waves that sold out in Atlanta. So skip some sleep and run early because you can always nap later!
Also, I would like to thank FitFluential and Dirty Girl for this awesome experience since I won free entry into this race during the Twitter chat. I will definitely be participating in next year's race as well! It was a blast!