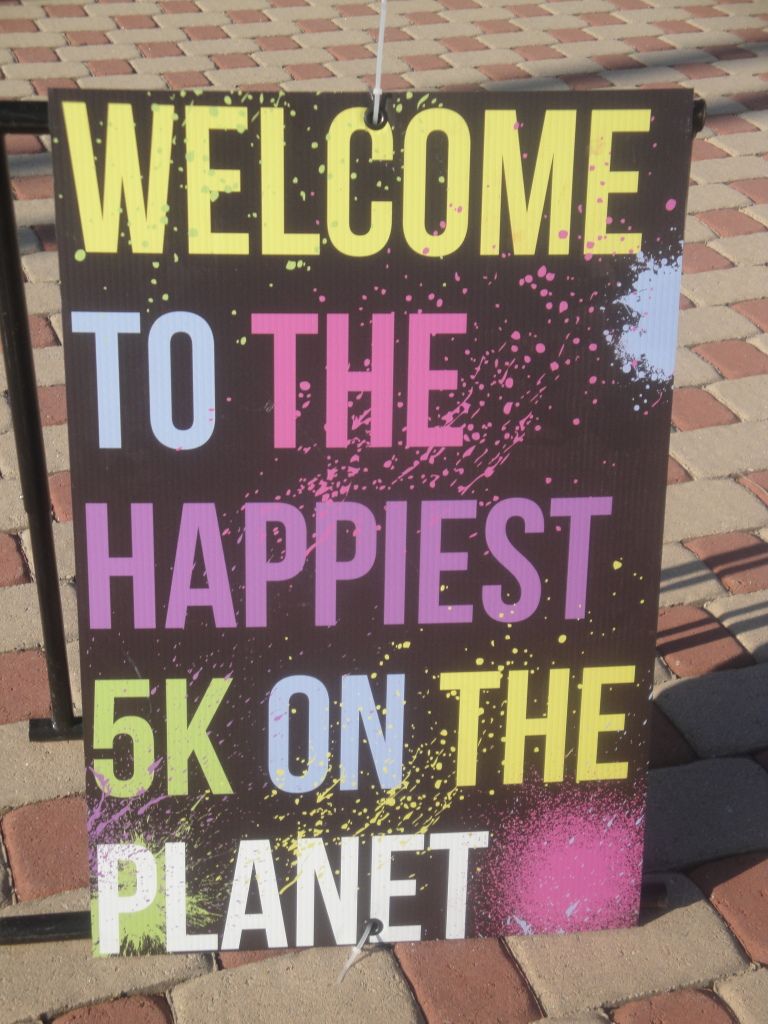 As you know from Friday's post, I participated in the Color Run this past weekend with some friends. It was definitely a really fun race that I would recommend to everyone (there are Color Run races all over the United States - check out the location list at the bottom of this post). I'll try to pack this post with advice and suggestions:
I guess race weekend officially began earlier last week when I went to pick up my bib, Color Run shirt, face tattoo, pack of color, and sweatband. It is important to read the race packet (I don't remember if this was e-mailed to me, but I know it was definitely on the website)...cough, Elizabeth, cough...so you know not only helpful details about the race itself but also race packet pick-up information. While you can pick up these goodies on race day, it is always helpful to have them in advance to help plan your outfit. Plus, it saves you a few extra ZZZ's on race day morning since you won't have to get there extra early to get your goodie bag and race bib.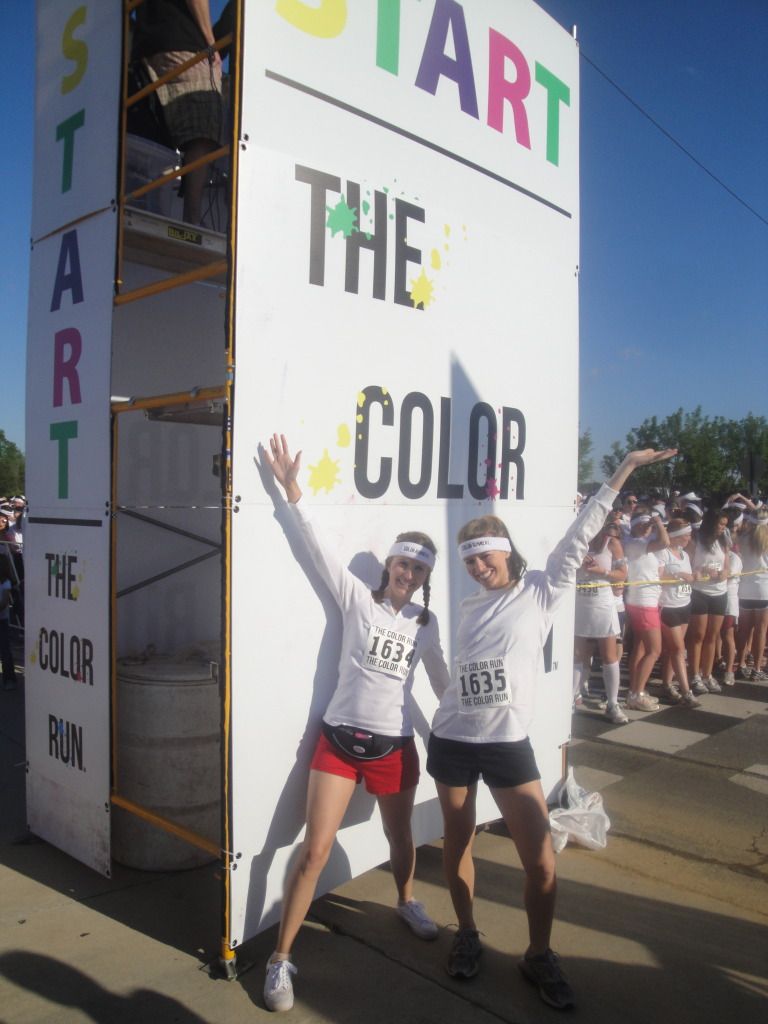 When I got to the Start, the first thing I noticed was every one's costumes. Even though everyone was dressed in white there were still some fun outfits - diapers, tutus, full body jumpers, etc. I'll need to step up my game next year! I met my group and we lined up at the start. I'm sure this was just because the race took place at Atlanta Motor Speedway, but I liked how they had a pace car lead the runners. It was a nice touch! One thing I noticed almost immediately after the start - the only thing I would change about the race - was the amount of walkers I had to dodge. I would recommend the announcers suggest for walkers in the back/later waves or at least place them on the right side of the track just to keep things moving.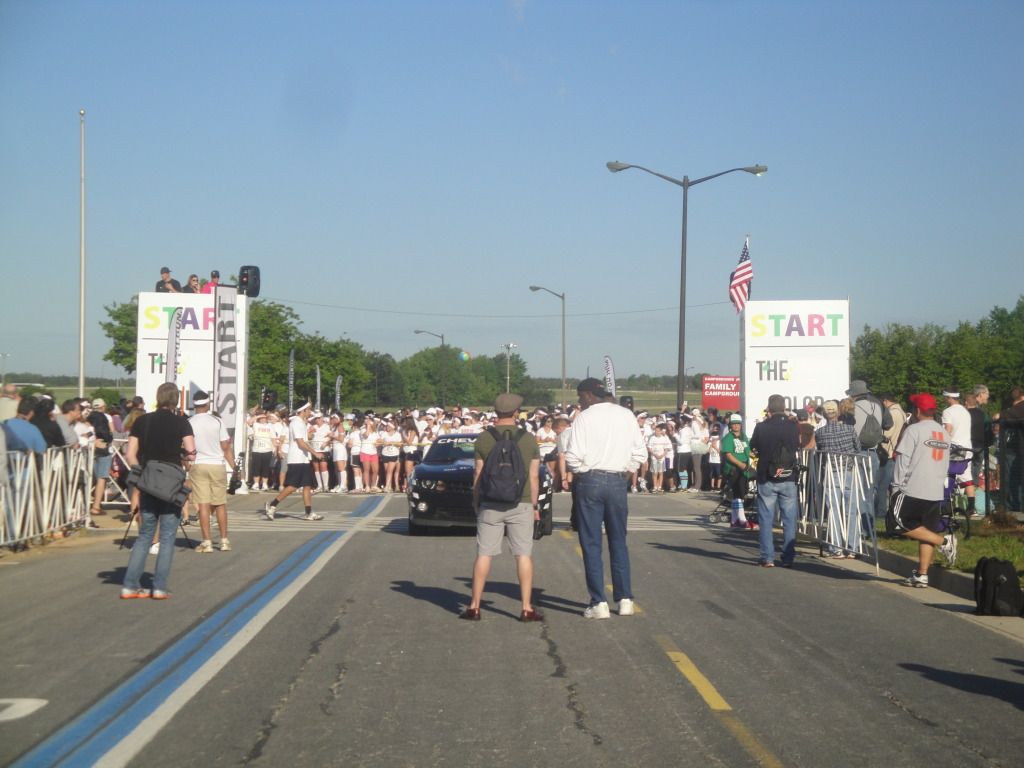 Just like I mentioned in Friday's post, at every K we were tossed in a different color. They are pretty good at giving you as much or as little color as you want (ex: little color? run through the middle. lots of color? ask the color-throwing volunteers for more.). During the race, I was surprised that there were so many children running. I wish I had known this in advance because David's cousins would have loved it! Usually there is an age limit of 12 or so on races, so I think it's great that the Color Run is kid-friendly. I was also glad they had a water station and potties along the course even though it was a 5K. I was in need of some water to clean my mouth after the green station! Side note: Keep mouth closed and don't take deep breaths as much as possible during the different color stations!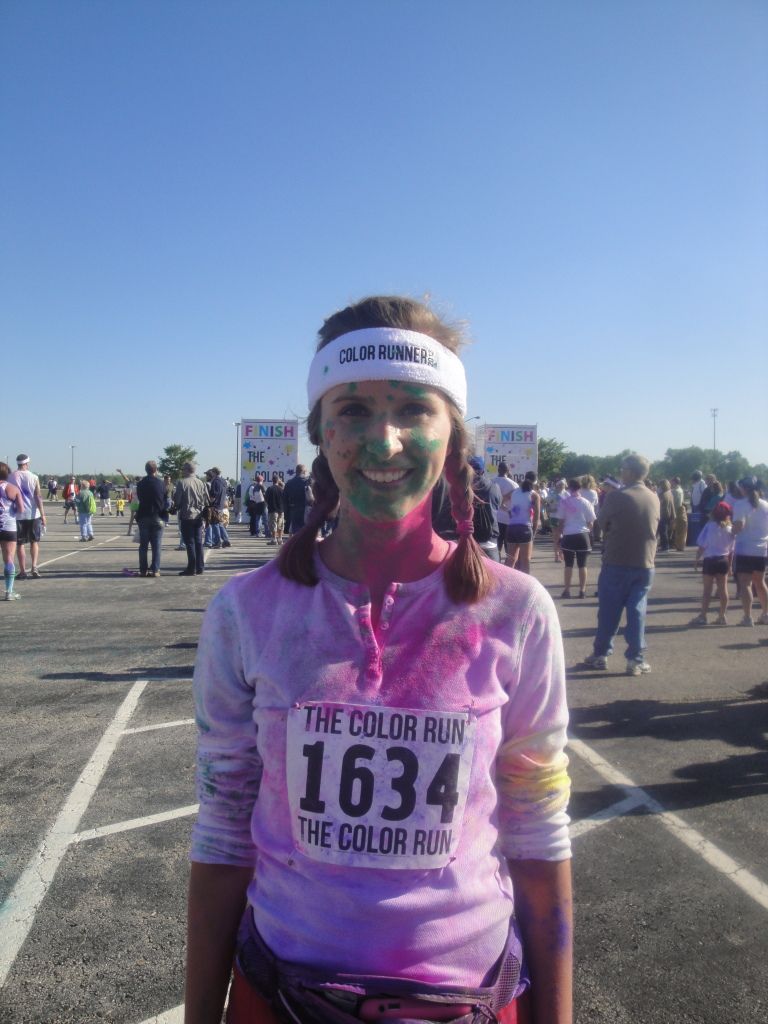 Post Color Run
After the race, we were given granola bars and bottles of water. As we waited for the rest of our group to finish, the DJ started conducting the color throws - every 15 minutes everyone gathered at the stage to throw their bags of color at the same time (these are given in your goodie bags and thrown out by the DJ). It turns out looking really cool as you can see from the photos below! While I didn't get too much color from the actual race, there is no escaping color during the color throws (tell this so friends and family that aren't running and are just watching as they might not make it out clean!).
The Color Throw
The Color Throw
Post-Color Throw
After we participated in about three color throws, we were ready to hit the road. At first I was a little disappointed that there were not any vendors around for extra entertainment. Then I realized that it would be really hard to be dirty/colorful and eat/shop at the same time. We found a man with a leaf blower that was blowing color off of everyone. This was actually very helpful and I recommend doing this before leaving for your car.
Although I brought extra clothes, I didn't change since the leaf blower worked fairly well on my clothes. I sat on a towel in my car just in case though. Right after the race, I had lunch with David which might have affected how well my color came off later. The race information packet recommends changing clothes, washing them, and showering as soon as possible (even bring baby wipes to the race). I wore old clothes I didn't mind getting ruined and my washing machine happens to be broken this week...just my luck. Add that to meeting David for lunch and you've got some lovely pink stains on my arm pits and chest! All the colors washed off pretty easily except for pink, so if you are covered in that pretty good then I definitely recommend getting it off ASAP. The only plus side to it was that Sunday was Easter, so I blended in with all of the eggs and spring colors :o)
My own color throw...Lebron style.
Don't forget that today is April 9th and a few registrations open on the Color Run website. (Also, registration might close online, but you can still register on actual race day too if the event does not sell out):
Are you planning to run the Color Run this year? Let me know in the comments below!
Please follow me on Twitter and "like" my blog on Facebook if you enjoy what you read. Also, my blog was nominated for a Fitness Magazine Fitterati Blogger Award. If you wouldn't mind voting for it here I would really appreciate it. Thanks!