This morning I was running late because over breakfast, David and I started counting states we have visited (he's beating me by 10 - darn those tiny northern states!), looking up photos of Montana and reading about the literacy rate by state. Yes, we are nerds. But, when I saw today's related post over at Fit2Flex, I knew I had to add it to my blog! This might be a boring post, but it will be helpful to me - a travel bucket list, no?! Fit2Flex said most people have been to 8. She has been to 23! Wow! I've only been to 13. I'm sure David trumps me on this list too since he studied abroad in college. No worries though. You best believe all of these places are on my list to visit.
The 100 Travel Challenge:
(list in alphabetical order)
1. Alamo
San Antonio, Texas, USA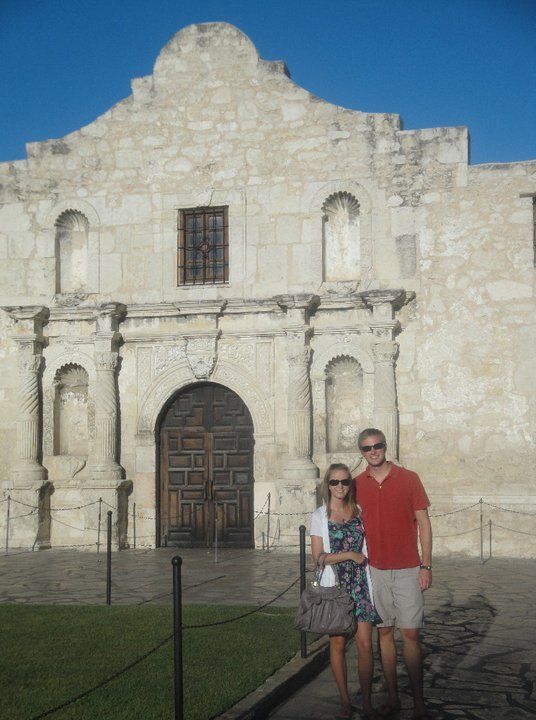 Read about this trip here.
6. Atlantic City Boardwalk
Atlantic City, New Jersey, USA
15. Cinque Terre National Park
17. Crater Lake National Park
19. Death Valley National Park
22. Easter Island Statues
24. Eiffel Tower
Paris, France

25. Empire State Building New York City, New York, USA


New Orleans, Louisiana, USA
29. Gateway Arch
St. Louis, Missouri, USA
30. Gettysburg Battlefield
Gettysburg, Pennsylvania, USA
32. Glacier National Park
San Francisco, California, USA
37. Grand Mosque in Mecca
39. Great Mosque of Córdoba
42. Hawaii Volcanoes National Park
43. Hollywood Boulevard
Hollywood, California, USA
50. Leaning Tower of Pisa
51. Louvre Museum
Paris, France
54. Mayan Pyramids of Chichen Itza
Yucatan Peninsula, Mexico
55. Metropolitan Museum of Art
New York City, New York, USA
Keystone, South Dakota, USA
63. Notre Dame Cathedral
Paris, France
Not only did I visit Notre Dame, but it was also part of the view outside my window in Paris!
64. Pacific Rim National Park
65. Pebble Beaches of Nice
68. Portland Head Lighthouse
Cape Elizabeth, Maine, USA
71. Redwood National Park
73. Rocky Mountain National Park
77. Willis Tower (formerly Sears Tower)
80. Smithsonian Institution
Washington, D.C., USA
83. Statue of Liberty
New York City, New York, USA
Wiltshire County, England
87. Temple of the Golden Pavilion
90. Times Square
New York City, New York, USA
Read about this trip here.
94. Walt Disney World Resort
Orlando, Florida
Read about an Orlando trip
here
.
95. Washington Monument
Washington, D.C., USA
96. White Cliffs of Dover
97. White House
Washington, D.C., USA
99. Yosemite National Park
How many of these places have you been too? If you could pick only one of these places to visit, which would you choose? Let me know in the comments below! Also, today is the last day to vote for Adventures with Alexandra for a Fitness Magazine Fitterati Blogger Award! Please vote here. Thank you!