So, it is that time of year again - beach and pool time! (At least down here in Georgia it is...) I ordered what I thought to be the cutest swimsuit EVER from Victoria's Secret last week - PINK & SPARKLES...need I say more?! I was shocked that it was on my doorstep not even a week later. I must say I was very impressed by their speedy delivery! Unfortunately, I was very disappointed with the swimsuit itself. The catalog photo made the swimsuit look hot pink and awesome. The swimsuit was neon pink (making it look cheap-ish) in real life. This is the second time I've ordered a swimsuit and the color has been misrepresented in the catalog photos. My friend Pam said this has happened to her before when she bought a mint green suit from VS too. Unlike last time, I will be returning it! Question for online shoppers - Do I have to return the beach bag I got for free with my purchase? I think I should get to keep it since they are not refunding the $10.99 I originally paid for shipping + I have to pay another $5.99 to return the swimsuit...geez! I could've purchased a whole swimsuit from Target for $17!
Speaking of Target, I will be making a stop there tonight to pick up some essentials for a bedroom makeover. I also found these pool/beach essentials on the site today...I might have to purchase them as well. How cute are those towels?! And, that swimsuit is a dead ringer for the one I purchased at VS...for half the price might I add!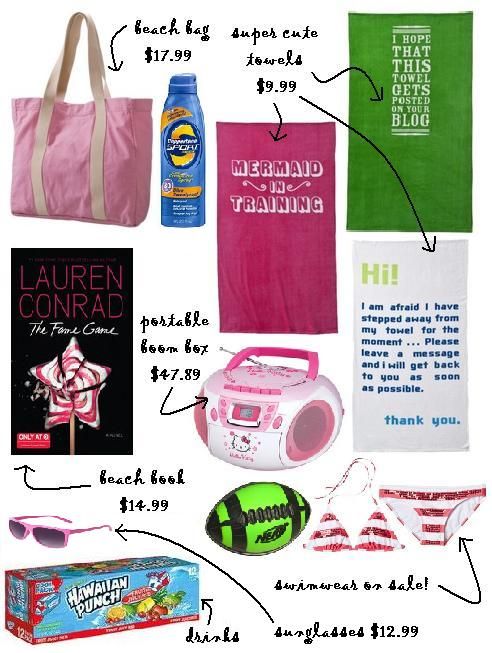 What items are on your pool/beach necessities list? Let me know in the comments below!