Sometimes life gets a little rough, but here are some things that brought a smile to my face recently. Let me know what has made you smile this past week in the comments below!
Christian Grey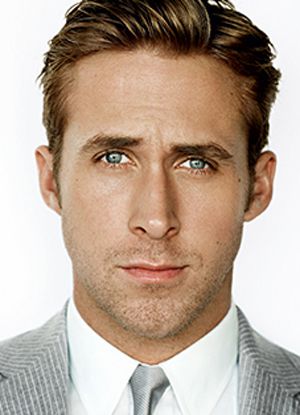 While Ryan Gosling has not been named the actor that will take on the role as Christian Grey, I hope he gets the part. His characters in Murder by Numbers, Crazy, Stupid Love and The Notebook all mixed together = Christian.
Photo from here.
I know I wasn't very happy with Christian in my most recent post on 50 Shades of Grey. I can now tell you that I am obsessed with this series. He definitely redeems himself in book 2. I literally cannot even take this book to the gym with me anymore because I was smiling ear to ear while reading it this weekend. Exhibit A: When Christian buys Ana an iPad I almost died. It was the sweetest gift ever! For those of you that don't know what I'm talking about - Christian buys Ana an iPad and personalizes it with a photo of them as the background, all her favorite books, and songs that remind him of her and their relationship. Did your heart just melt a little too?
BCBGeneration Nude Pumps
There is a story behind these amazing shoes. I wanted some classic, Kate Middleton-inspired nude pumps for over a year. I searched and searched because I was not going to settle for just any nude pumps. I didn't want shiny ones or ones with a crazy one inch sole - those are all fine and dandy, but just not for me. These are what I imagined. Last summer I finally found them on Amazon. These are BGBGeneration nude pumps for $89. I even got them $20 off at the time. I've worn them numerous times and was a little bummed when I went back to purchase another pair and they were out of my size. But, fret no more! These shoes are back on Amazon for...wait for it...$50! They had only three pairs left in my size, so you know I bought a pair! Dreams come true! Now I'm wondering if I should have bought two more pairs...
Workouts
I've been rocking my workouts recently! It makes me proud. Have you tried Daily Mile? It's a great website where you can log all your workouts of any kind. It even posts them to Twitter or Facebook if you like, so its perfect for checking in with Karena and Katrina from Tone It Up (just use their Twitter handle in your workout recap). I like that it charts all of my workouts - past and present. On Mondays, Daily Mile sends a workout recap of the previous week's workouts. It's very convenient!
Summer/Pool Season
I am so excited that summer is right around the corner! It's been in the mid-80s in Atlanta already. We kind of skipped spring. I even got to go to the pool for the first time in 2012 the other weekend. I'm hoping to return again this weekend if it's sunny! Check out this fun post on beach/pool essentials from Target. I still need to purchase that blogger towel!
Asparagus and Green Beans
This might be weird, but I've been obsessed with asparagus and fresh green beans. I crave them all the time. I'm even getting antsy right now just thinking about going to the store tonight to purchase them. I could have a worse addiction, right?!
Whey of Life Smoothies
My mom always gets this smoothie at our gym cafe (LIFETIME Fitness, if you are wondering). I've started getting it the last couples days and am loving it! I don't know the exact proportion of each ingredient, but it includes whey protein, skim milk, a banana, yogurt, and peanut butter. It is super tasty! Have you tried it before?
Books
I realized that I am flying through books like crazy these days! I'm going to be really sad when I finish the final 50 Shades book, but I already have The Perks of Being a Wallflower lined up next! It makes having a Kindle Fire really fantastic because tons of books are at my finger tips. It kind of makes me miss physical books though. I might hit up the library soon actually - it's one of my favorite summertime activities. Oh! Speaking of cute gifts from Christian Grey and books - I have a friend that buys his girlfriend a new book every two weeks or so as just a sweet thing since he was super busy with work and school. I hope he still does it as I thought it was basically the nicest thing I've ever heard!
Flowers
I'm dying for some yellow roses. I never bought myself any like I said I was going to on my birthday/Valentine's Day. Right now would be the perfect time to order some from ProFlowers. They are just so bright and cheerful, I can't help but smile when I see this friendly flowers!
My Wish
This might be my all time favorite song because I love it no matter what mood I'm in. It's just happy, inspirational and classic. Plus, it's perfect for this time of year with graduations and weddings - I love writing it in cards.
The Harvard Baseball Team
This is basically awesomeness in a van. While their dance moves could use some creativity, this video always makes me smile - especially the lip syncing and the guy who is really asleep in the background. Poor dude!
Don't forget to comment below with some of your favorite things from the past week!