Just like with yesterday's post, something came up and I just had to write about it! Usually I am very organized and have posts planned way in advance, but sometimes you just have to postpone them when other good things come up!
If you didn't catch last night's season finale of The Vampire Diaries then don't read past this paragraph...before watching it here. I don't want to ruin the finale for you. For those of you that have never watched the show, I definitely recommend it. The show is actually an adaption of a book series. I've never read the books, but I did look up a brief summary of the series once. I think I'll stick with the television show as the show and books seem completely different. Season 1 and 2 are currently on Netflix Streaming by the way. I actually just finished re-watching them myself. Of all three seasons, this past season is definitely my favorite. The writers killed it - every episode was filled with "season finale worthy" shockers! It had me hooked Thursday to Thursday. I'm really sad it's now over, but boy, what a season finale!
***SPOILERS***
Lets now discuss last night's episode. Here are some of my thoughts about this crazy finale:
1. The episode flashed back between pre-season 1 and present day. This episode kept me on my toes because it flawlessly transferred back from the day Elena's parents died to present day. Up until last night, we never got to know Elena's parents or many details of the night they died. Pat on the back, writers. I'm very impressed!
2. Elena finally makes her decision between Team Stefan and Team Damon after we all have been patiently waiting since last fall. Elena chooses Stefan and I am very happy with that decision, but...
3. The writers sure do make the Team Stefan/Team Damon decision just as tough for us fans as it is for Elena. Elena picks Stefan because he was there during a dark time in her life when she desperately needed someone. Little did we know for seasons 1-3 that Damon was actually the first to meet Elena right before the big car accident. I loved this scene, but in the end, Damon compels Elena to forget they met since he wasn't ready to be back in town yet - not before compelling her to get everything her heart desires though. How romantical! You were breaking my heart at this moment, writers! Plus, now that I think about it, it explains why Damon/the black crow was following Elena around during the first episode which I don't think was ever explained until now.
4. Vampire Ric kills Klaus! I died here. The writers truly never let anyone off the hook - one reason why this show is so suspenseful. They'll kill off anyone including a big, bad guy like Klaus. I was hoping for a little Klaus/Caroline romance though...boo :o(
5. But, Klaus isn't really dead because he had Bonnie transfer him into Tyler's body! I re-died when I saw this scene. I'm actually not sure what I think about it. A) It makes me happy because now Klaus and Caroline will have a relationship...just a weird one since she will think he is her boyfriend Tyler, of course B) Joseph Morgan who plays Klaus is drop dead dreamy. I'm sad to see him go. (Sidenote: I've seen all of the actors in real life except Matthew Davis and I must say that Joseph Morgan is more handsome/captivating in real life than he is on screen. Plus, that accent is real, ladies!)
6. So, you know that part where I said the writers will kill off anyone...yeah, Alaric

Saltzman/Vampire Ric

dies...and a little bit of me died with him. I loved his character and loved the respectful and heartbreaking goodbye the gang gave him a few episodes back in the woods...before he turned into an evil, vampire-killing vampire. Thankfully, the writers did a great job this episode too. At least the writers let Ric say his goodbyes to poor Jeremy in a touching way.
7. And if Alaric is dead that means...they killed off leading lady Elena too! This scene was crazy as it flashed between present day and the car accident that killed Elena's parents. I was beyond sad when they showed Elena saying her last goodbyes to her father and then again when her father motions for Stefan to save Elena instead of him and then again when Elena sacrifices herself to save her friend Matt in present day. Boy, do these writers know how to pull some heartstrings!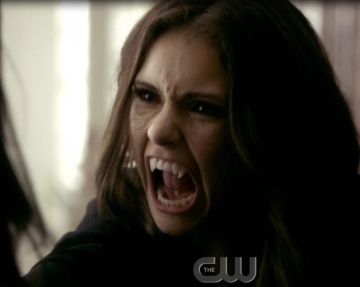 This isn't from last night and it isn't Elena. It's Catherine...where has she been by the way?!
Photo from here.
8. No worries, Elena is alive...as a vampire now! I was wondering when this would happen actually, but now that she's a vampire I'm not sure where the show will go. The last three seasons have been about everyone protecting Elena from dark forces. Now she will be able to protect herself! This will be very interesting to watch and I cannot wait for September already! I'm also assuming this will throw her into a depression because A) She has made it clear that she doesn't want to be a vampire and B) She was already somewhat depressed in life with everyone she knows dying and becoming a vampire just increases your normal human emotions.
9. Jeremy and Matt (I'm assuming he survived the car wreck?!) are now the only two regular humans left in this gang (although does Jeremy even count since he sees dead people?!). I wonder if they will bring in any new young characters? Maybe as they all head to Mystic Falls University soon? I just made that up, but it is what most shows do a la 90210 and Saved by the Bell...
10. From the finale, I can only assume that the towns folk will be after the gang as Vampire Ric told the town counsel that Caroline and Tyler are supernatural...let the drama begin!
Let me know in the comments below what you thought about the finale. I'd love to hear comments, reviews, and anything you picked up from the show that I might have missed!