This Sunday (June 3) one of my favorite shows is coming back to television! Last summer, David and I were obsessed with
Extreme Makeover: Weight Loss Edition
. If you haven't seen the show before, each week focuses on a new individual's weight loss journey. (All of the individual's chosen weigh at least 400 pounds - these really are extreme makeovers!)
Chris Powell, the host of the show, chooses a new person to help each episode and works with that person for one full year. The transformations are always amazing - most people losing over 200 pounds! First, he flies the individual out to California for a medical evaluation and boot camp. After boot camp, it's back to the real world - with real temptations and struggles. Chris usually gives their house a mini-makeover by turning their living room into a gym. That's right - no more couch! This is when Chris gives them their first weight loss goal for the first three months (usually around 80 pounds) and a prize if they reach their goal! People have won voice lessons, cars, training sessions with NFL players, trips to Greece, etc.
Rachel - before
Photo from here.
The hard part sets in during the next three months as the individuals have to continue to eat well and workout without the help of Chris. He always checks in on them and he reimburses their grocery bills - only the healthy foods! It is also a good way to keep an eye on their nutrition. The individuals are working toward their next weight loss goal during this three month period with a new prize at the finish line. Usually if contestants can get to a certain weight (usually around 200 pounds I think) by the last weigh in before their big reveal, they can undergo a skin removal procedure! I always hope the individuals can get this far because I think removing the extra skin is a great plus for them that not a lot of people get to do in life after a significant weight loss.
Rachel - final weigh-in
Photo from here.
After a year, the individuals come out on a stage in front of their families and communities for their big reveal and a final weigh in! The last couple minutes of the show are always the best! It is awesome to see the transformations - like The Biggest Loser but all in one episode! If the individuals meet their overall goal weight, I think they are given a final prize. I remember one guy got tickets to the Super Bowl!
Rachel - after
Photo from here.
(The photos I've posted are of Rachel from Season 1. She was a elementary school gym teacher from Georgia.) If you are interested in watching this motivational and inspirational show, it airs Sunday nights on ABC at 9pm EST starting June 3! Let me know what you think!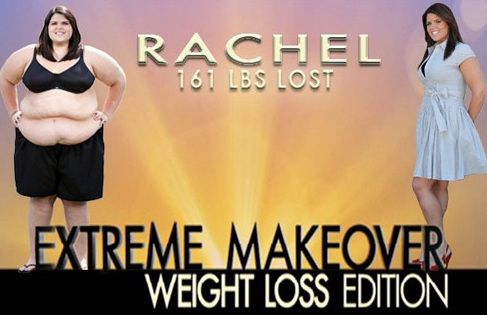 Rachel's transformation
Photo from here.
*Lastly, the winner of the Technogel contest is...
Lynn Hilker Stadtmuller
Congrats! Please e-mail me (ADadisman1@aol.com) by Sunday, June 3 at 11:59pm EST or I will draw a new winner!*