I decided to start a new series to add to "Friday Favorites" and "Girl Crush" posts (usually posted on Thursdays). I was thinking of things that brighten my day when I'm having a rough time. I did a similar post - Things That Make Me Smile - in May and really enjoyed creating my list that week. Now these posts will be all fancy and official since they have a tag name :o)
Day Planners
I don't know why, but I am obsessed with calendars. There have been times where I have had at least four calendars at one moment in time. Currently, I have three (not including the two I just purchased that don't start until July) - a large day planner, my phone calendar. and my Outlook calendar. They all say the same things, so there is really no point to having them all. It is just a strange obsession - I like writing things down in them and making plans. I'm definitely a planner in life! OCD much?
Foodie Pen Pals
The Lean Green Bean Blog does Foodie Pen Pals every month. This month I decided to participate! On the 5th of the month (yesterday for June), each participate gets the e-mail address of their pen pal. You ask them questions to get to know what kind of items they might like. Then, you mail your package by the 15th. Everyone gets their Foodie Pen Pal packages between the 15th and the final day of the month. On the last day of the month, bloggers are allowed to publish posts of their goodies! But, you do not have to be a blogger to participate. Anyone can join here. I cannot wait to send and receive my packages!
Girlfriend Dates
I have two girlfriend dates this week - a dinner date with Donna tonight and lunch with Jessica sometime this week. Girlfriend dates are always fun because girl talk is a must! I always get stressed, over-analyze everything, and think my life is falling apart, but my ladies can straighten me out!
Movie Theaters
If you read the end of this post, then you heard that movie theaters are one of the 15 technologies a child born today will never experience. That depresses me! I think movie theaters are magical. The moment the lights dim and the movie begins to play is one of my favorite things ever! It is sad that some people will never experience it. But, movie theater prices have gotten out of control! My movie theater experience was awesome this past weekend. I really recommend checking out a Studio Movie Grill if you have one in your area.
Post- Workout Chocolate Milk
Refueling with protein shakes and sports drinks is so last year. The new "it" thing seems to be the post-workout chocolate milk - no complaints here! Got Milk is working hard on their new campaign - My After/Got Chocolate Milk. Many races are even giving out this tasty drink at the Finish line these days.
Carrie Bradshaw
Although it has been years since we've seen Carrie on the television or big screen, she has definitely been around in your local library and book store. I just finished The Carrie Diaries - a book about Carrie's life pre-NYC. She still has high school boyfriend and friend drama, so the book is just as entertaining as the show/movies. One excerpt caught my eye while reading - "I'm going to live in Manhattan. I'm going to hear the lions roaring in Central Park. I don't know how I'm going to get there, but I will." I thought this was an awesome quote! I wish I was that ambitious and future-oriented in high school, then I might not be having a mid-midlife crisis currently.
Workouts
I feel like I have been rocking my workouts lately. Even my Daily Mile weekly update told me I was ;o)
National Chocolate Ice Cream Day - June 7
On a unhealthy note, tomorrow is National Chocolate Ice Cream Day! You best believe I will be celebrating at my new favorite place - Sweet Treats. They can blend all your toppings (I love fudge and strawberries) into your yogurt!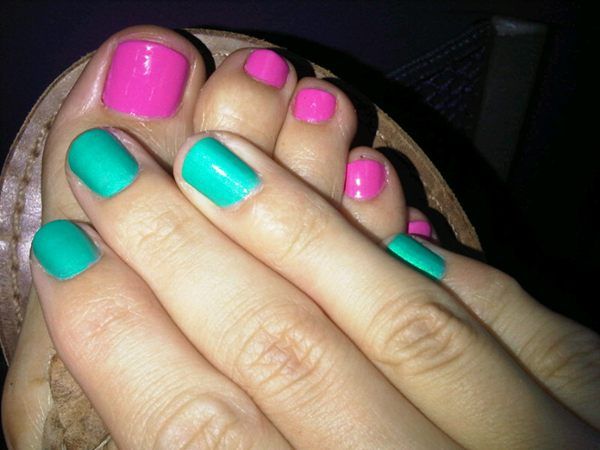 Color Block: Nail Edition
Saturday afternoon my family went to get our nails did! The foot and hand massage felt amazeballs after my morning workout that day. (I always tell myself to get a pedicure after my big races, but I never have. I need to do that this winter...for reals this time!) I decided on pink and turquoise. These colors look awesome together and are the perfect shades for summer in my opinion!
What is making you happy this week? Let me know in the comments below.