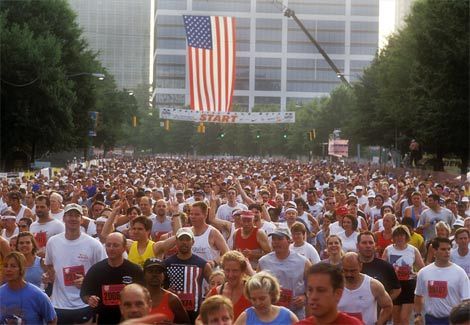 Peachtree Road Race 10K
Photo from here.
Atlanta is home to one of the largest (if not the largest) 10K races - the Peachtree Road Race. Over 50,000 people run this race each year bright and early on the Fourth of July. There are a ton of spectators along Peachtree Street and lots of people wear red, white, and blue. Its a lot of fun!
If I'm in town, I will definitely run it but I decided to set up a little pre-Peachtree Road Race run just in case. I knew my friend Donna over at Yoga In Heels would be on board, so we planned to do a joint event. Unfortunately, only one person (Eric from this post!) showed up out of the hundred we invited! No biggie - we had a blast as always. Check out our video below. We planned to vlog along the course, but unfortunately it started pouring rain about 1/2 mile in, so now it's short and sweet instead ;o)
To add insult to injury, not only was it raining, but I also locked my keys in Donna's car...at the Start. My car was at the Finish and I was supposed to drive us all back. Good one, huh? No worries - we got a ride to our cars and had a lovely dinner at Cantina. I had chocolate milk and the Trailer Park chicken taco - mmm, mmm good!
How do you plan to stay active this weekend? As the Tone It Up girls always say - if you don't make good choices on the weekends then you are cheating half the month! Eric and I are doing a 5 mile lap around Stone Mountain and then a 1.3 mile trip to the top of it and then a 1.3 mile trip back down. Yes, we are rockstars! ;o)
Speaking of Tone It Up, there will be no cheating for me this weekend as I start the 5 Day Slim Down today to finish off the last five days of the Bikini Series on top! I've never done it over a weekend before...eek. Wish me luck!