...you hoped it would come true - that one day your Prince Charming would come rescue you. You like romantic movies, and you never will forget the way it felt when Romeo kissed Juliet. - All-4-One
I don't know about you, but I want my movie moments in life. Here are some I've had so far:
Some are in my dreams -
I once had a dream where my dream boyfriend took me into Tiffany & Co. really early in the morning. There was a breakfast laid out picnic-style (Breakfast at Tiffany's, get it?) and then he proceeded to propose and let me pick out the ring I wanted. A similar version of said dream obviously ended up a year later in Sweet Home Alabama. I didn't mind that they stole my dream for their cute scene.
Some have already taken place in movies -
In grad school I was sitting on the stairs outside of a building reading one day. I randomly looked up just in time to see this white feather slowly making its way toward me - floating back and forth. It eventually landed in my lap. It was the strangest thing and very Forrest Gump if you ask me. This guy saw my movie moment too and had to comment on it - I'm glad I'm not the only one that picks up on these things.
And some are original movie-worthy moments -
When I was younger, I dated a guy from middle school into high school. We broke up in January of our freshman year, but I always thought about him and wondered what he was up to for the next 3.5 years of high school. During senior prom, I was having an interesting night. My date abandoned me the whole night for one of my friends. No worries I had a great time dancing with my other friends. The last song of the night was a slow song, so I made my way off the dance floor. But, as I did a hand randomly grabbed mine. At first, I thought it was my date, but when I turned around it was the ex-boyfriend from freshman year and we danced the last dance together and ended up dating two more years. Cute, huh? Feel free to steal that one too, movie makers.
So, this past Sunday I watched the latest Keeping Up with the Kardashians episode. It is usually just a show I watch for fun - nothing too special - but last Sunday's episode was hilarious! I definitely recommend it. Kourtney Kardashian and her boyfriend, Scott Disick, have been dating for years. They even have a super cute toddler (Mason) and a baby girl on the way. Because they are now parents with busy lives, they don't have much time for each other and even sleep in separate beds though they live together. While some find this couple annoying, I actually really like them and their realness!
On last night's episode, pregnant Kourtney was depressed as she watched Titanic. She asked Scott why their relationship isn't like the one in the movie - he replied back "because its a movie"!? Scott then went on to attempt to romance Kourtney by getting spray tan abs to look more like Ryan Gosling from The Notebook...
They didn't look that bad!
Photo from here.
Then he climbed a ladder and started hammering the side of the house a la Noah Calhoun in The Notebook until Kourtney returned home. He then proceeded to yell random movie quotes at her such as "Where have you been? I wrote you 98 times in text messages." and "I can't quite you!" While I thought it was super cute and funny, Kourtney was annoyed - but I guess I'm not a hormonal pregnant lady.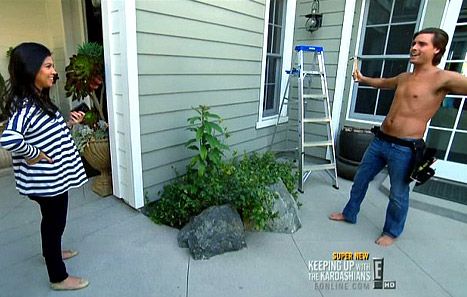 Photo from here.
So, this got me thinking - has the bar been set for guys by girls at a very young age? Do we all expect movie-worthy moments in our lives? Is this setting guys up for failure and girls up for disappointment? I think yes! I blame movies and books mostly. Think about it - we grow up watching Disney movies and then when we are old enough, we start reading books by Nicholas Sparks and EL James! My theory is if these book and movie writers can think up this lovey-dovey stuff that melts millions of girls hearts then why can't the Average Joe think it up? Basically, the bar has been set high boys, so step it up! Until then...
What fictional character would you date if available...and real? Let me know in the comments below!