Happy October, everyone! The month of September flew by, and I feel like I got everything done and absolutely nothing done at the same time. I accepted a job offer at a new company, and I missed the first two weeks of the new fall television line up (which if you know me then you know that is inconceivable!). See? Told you I was busy last month! I've posted a score card for September's goals below. All I can say is that I'm glad my school report cards were not this terrible...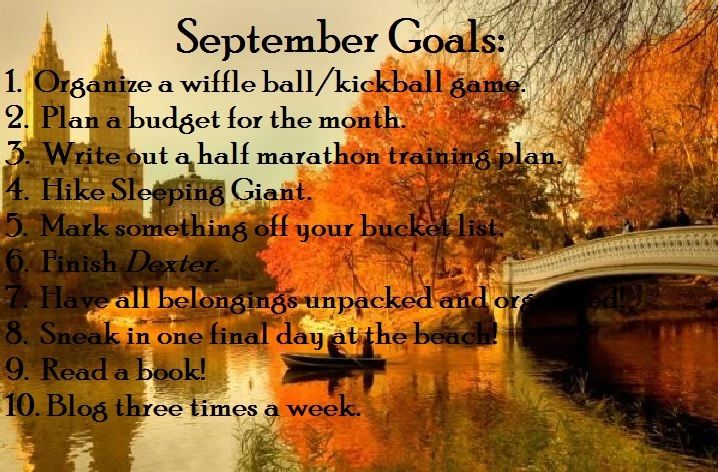 1. Organize a wiffle ball/kickball game. Other than coming up with the idea, this goal didn't even get close to happening... F--
2. Plan a budget for the month. I still didn't save much, but I kept up with my log of all the money I spent this month.

A+
3. Write out a half marathon training plan. I have my training schedule for the Glass Slipper Challenge which I will post later this week.

A+
4. Hike Sleeping Giant. I had plans to go last Sunday, but my friends slowly cancelled one by one, so I watched football and Dawson's Creek instead. I can't put this off anymore.

F
6. Finish Dexter. I have a few more episodes to go, but I can't wait to see how it ends.

C+
7. Have all belongings unpacked and organized. I feel as if I've unpacked from my move, but now I'm just trying to "fall clean".

B
8. Sneak in one final day at the beach. My only trip to the beach involved me watching the sunrise solo one Sunday morning after leaving my friend's house. I didn't get a tan as planned for my beach day, but it sure is gorgeous, no?!

B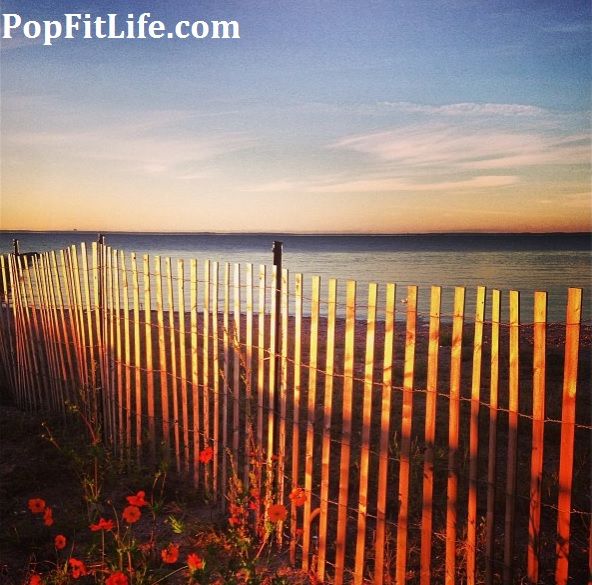 9. Read a book! Sadly, I haven't even opened a book this month, but I did order two off Amazon which should arrive mid-October.

F--
10. Blog 3x per week. I think I missed one week of blogging, but other than that I've been posting at least 3x per week since the beginning of September.

B+
Please don't judge me on my sad September grades. Hopefully, October will be a lot better. On to this month's goals...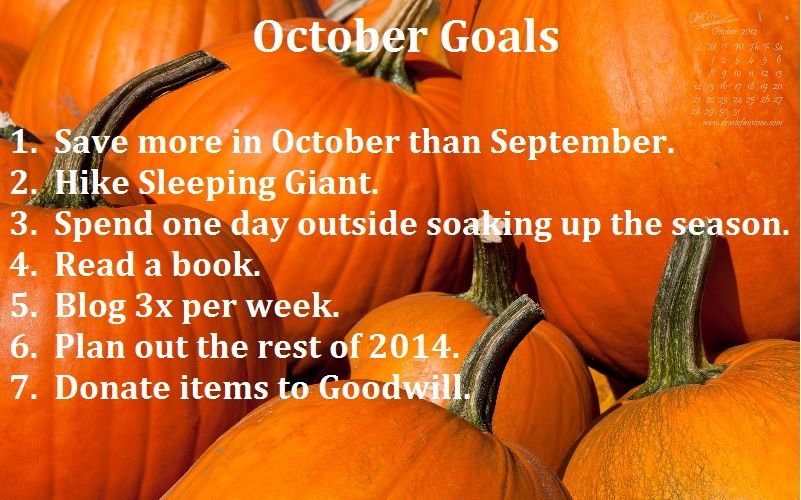 October's goals aren't that exciting. This will be a huge transitioning month for me - a new job, a new season, the beginning of the holiday season, and the beginning of the end of 2013. Because of this, I kept this month's goals pretty simple. Hopefully, some fun and exciting adventures will pop up throughout the month.
1. Save more in October than in September.
2. Hike Sleeping Giant. I've calendared in this activity for Sunday. Hold me to it!
3. Spend one day outside soaking up the season. Apple picking. Pumpkin carving. Fall races. Corn mazes. I want to spend a day where I can just be outside and enjoy my favorite season.
4. Read a book. Any suggestions?
5. Blog 3x per week. While I wish I could get back to posting everyday, it just doesn't seem to be realistic with my life right now. Having said that, I'm rocking 3 posts a week pretty well!
6. Plan out the rest of 2014. There are only 3 months left until 2014, and they happen to be the busiest months of the year. With holidays coming up, I just want to make sure all my big events and travel plans are booked.
7. Donate items to Goodwill. Once I finish my "fall cleaning", I plan to donate it all to Goodwill. I already have two full trash bags of stuff!
What are your goals for the new month? Let me know in the comments below!